CABS Overview
​What is CABS and what benefits could you expect to gain if you were to join the ranks of the worldwide CABS user base?

Firstly, CABS is proven – every day thousands of users around the world rely on CABS to keep their meetings and events happening, to deliver front-of-house client service, and to coordinate the most sophisticated workspace operations you can imagine.

Next, CABS is modern – integrating with and taking advantage of the power of the latest Microsoft technologies including Office, server software, Internet Information Services, Active Directory, OAuth 2.0 and SQL Database, as well as having mobile device apps providing selected functionality for roving users, CABS is both easy to support and use.

Furthermore, CABS is scalable – from helping to run a relatively small site with just a handful of system users, through to supporting larger facilities with hundreds of users, to enabling organisations with facilities in several time zones and thousands of users working around the clock to work as one, CABS is a system you can be sure will be fit for purpose.

Finally, CABS is so flexible and configurable it is almost impossible to define - it can easily be described as any or all of the following: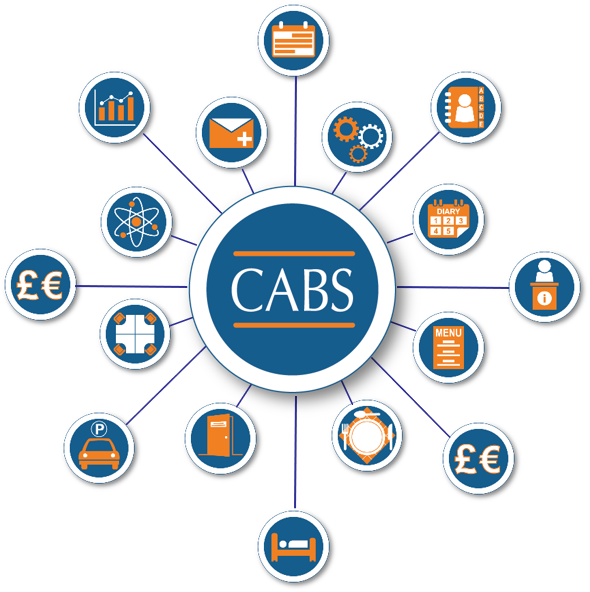 An online diary
A world meeting planner
A room booking system
Club membership software
A multi-time zone meeting planner
A meeting room booking system
Membership management software
Visitor management software
Reception software
A hospitality system
Integrated car parking system
A hot desk management system
A hotelling system

Service delivery software
Conference centre management software
A commercial venue management system
An integrated restaurant management system
Residential conference centre software
Training centre management software

If you are looking for one of these solutions, or another that we've overlooked to describe, please explore our site or contact us to talk to one of our advisors to find out how we could deploy CABS in your organisation to release a wealth of benefits.
---
---